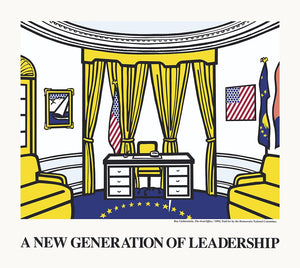 A NEW GENERATION OF LEADERSHIP by ROY LICHTENSTEIN
vendor-unknown
ROY LICHTENSTEIN A NEW GENERATION OF LEADERSHIP
Offset lithography

Paper size: 78.7 x 96.6 cm
Images size: 78.7 x 96.6 cm

very good condition
Published in a series of six artists' posters for the Democratic National Convention
and the Presidential Inaugural Committee. Printing information: Roy Lichtenstein,
The Oval Office, © 1992. Paid for by the Democratic National Committee.