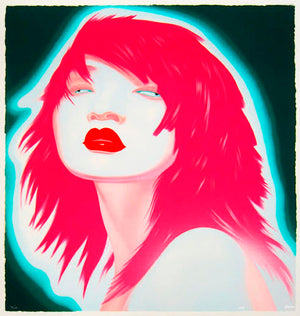 Chinese Portrait series #26 by Feng Zhengjie
vendor-unknown
Feng Zhengjie   Chinese Portrait series #26, 2008
Screenprint on 490 gram smooth custom paper, deckled edges.
hand signed, dated and numbered in ink, lower margin
Edition 200

Image Size: 32 x 32 inches (81.3 x 81.3cm)
Paper Size: 32 x 32 inches (81.3 x 81.3cm)


Condition: excellent condition

Feng Zhengjie is an internationally renowned Chinese Contemporary artist associated with the Chinese Avant-Garde movement. His oil paintings of uber-glamorous women are inspired by the fashion models seen in advertisement and fashion magazines. His Neo-Pop futuristic portraits of women, the so-called "Chinese Portrait Series", are also inspired by the artist's muse Marilyn Monroe and Andy Warhol's celebrity portraits. Fengs use of neon colors, mostly electric green and pick to depicted perfectly coiffed hair, pouty lips, idealized facial features as well as the wild, rolled eyes of each model that gaze to nowhere, intentionally dislocate these women from any context. These creatures remain unattainable icons, frozen in an a pose of ecstasy and glamor. This print is from an edition of 200, unframed and in excellent condition.