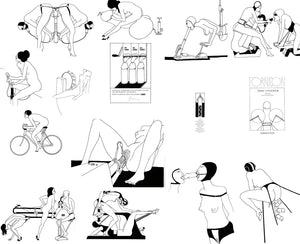 Fornicon, 1969 by Ungerer, Tomi
vendor-unknown
Ungerer, Tomi Fornicon, 1969
lithograph, Edition xx/300

60 plates in black cloth clamshell box.

Paper size: 11.1/3 x 14 7/8 inch (28.8 x 37.8 cm)
Images size: 11.1/3 x 14 7/8 inch (28.8 x 37.8 cm)

very good condition

Minor staining to box, one-inch closed tear along tail of spine on front board of box. Delightful portfolio with sixty reproductions of humorous erotic drawings by the French illustrator Tomi Ungerer (1931-).
The drawings are of 'machine dominated' sex acts with a focus on phallic imagery. One drawing signed in pencil by Ungerer. Two page foreword in German by Walther Killy. This numbered limited edition was published especially for the "Klub der Bibliomanen."
Most of the plates on heavy card stock, a few are on thinner paper with a greenish linear background. Clamshell box in very good, plates in near fine condition.