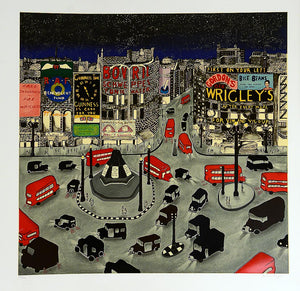 London 1943, Piccadilly-Circus by Linnea Pergola
vendor-unknown
Linnea Pergola London 1943, Piccadilly-Circus
Serigraph, Signed and Numbered in pencil,
Edition 290/295
Paper Size: 36 x 36 inch
Images size: 30 x 30 inch 
excellent condition
Linnea Pergola's original silk-screen, It is one of her most sought after works of original graphic art. Like most of her work in this medium, this original silk-screen contains hot stamping in silver which creates a further layer of reflective lights. This impression is printed upon heavy hand-made paper with full margins as published in an edition impressions. It is signed, dated and numbered, by the American artist, Linnea Pergola in pencil.